Give Buildings the Blues with an Ancient Egyptian Pigment
S. Himmelstein | October 10, 2018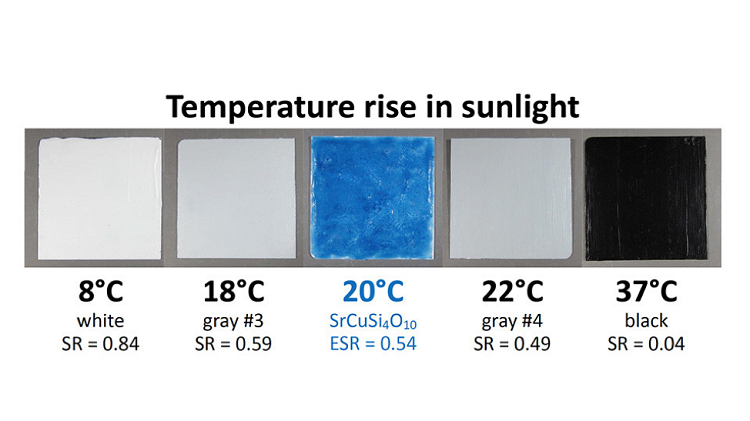 Researchers measured the temperature rise above air temperature observed in full sun for five pigment-coated samples, each 75 mm square. The white and black samples show low and high temperatures. Source: LBNL
Egyptian blue, a pigment derived from calcium copper silicate, was used in artwork thousands of years ago. More modern applications for the color have been discovered by U.S. Department of Energy Lawrence Berkeley Laboratory (LBNL) researchers. Egyptian blue absorbs visible light, followed by the emission of light in the near-infrared range.
These properties indicate that the color can be of value in cool roofing systems where the fluorescence can provide additional cooling, and in luminescent solar concentrators where the fluorescence can be captured by photovoltaic cells to produce electricity. The researchers monitored the temperature of surfaces coated with the pigment and related compounds under sunlight exposure. Such fluorescent blues can emit nearly 100% as many photons as they absorb, with an emission process energy efficiency up to 70%.
In addition to its cooling potential for buildings, Egyptian blue's fluorescence could also be useful in producing solar energy. Used on windows tinted with the blue, photovoltaic cells on the edges can convert the fluoresced near-infrared energy to electricity.