Iberdrola SA and Mitsubishi Hitachi Power Systems signed an agreement for two M501J gas turbines, a steam turbine, a spare gas turbine rotor, and a long-term service agreement for the El Carmen combined cycle power plant in Nuevo León, Mexico.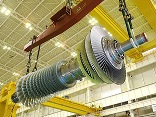 The J-class turbines will help Iberdrola expand service in Mexico.The order for the 850 megawatt (MW) combined cycle power plant is part of Iberdrola's plan to supply electricity to Mexico's growing energy market. The El Carmen turbines are scheduled to be delivered in 2018 and commercial operation is expected in September 2019.
The order from Iberdrola brings the total to six MHPS J-Class Gas Turbines and three steam turbines that the Spain-based energy company has ordered in the past two years.
Iberdrola has targeted Mexico as a growth market following the country's liberalization of its energy markets. The company is building seven power plants in the country, including four combined cycle plants and three cogeneration facilities. The company already has 12 plants operating, including five combined cycle power plants, two cogeneration plants, and five wind farms.
Mitsubishi Hitachi says it has 21 J-series turbines in operation globally and 47 ordered.