In March 2014, health officials in Africa announced the outbreak of Ebola virus disease in Guinea. Within weeks the epidemic had spread to Sierra Leone in West Africa. By late 2015, more than 14,000 cases of Ebola had been recorded in Sierra Leone, along with almost 4,000 deaths, according to the World Health Organization.
Then, half a world away on April 16, 2016, an earthquake registering 7.8 on the Richter scale struck Ecuador. Structures collapsed hundreds of kilometers from the epicenter. At least 661 people were killed. Another 27,000 were injured.
These humanitarian crises shared at least one thing in common: A fast response from volunteer engineers working with Engineers Without Borders USA's (EWB-USA's) Engineering Service Corps, one of three EWB-USA volunteer-fueled programs. Since its founding in early 2014, the Service Corps has deployed experienced professional engineers to parts of the world facing crises that range from earthquakes to droughts. For many of the engineer-volunteers, the work with EWB-USA stands as a career highlight that reminds them of why they were first drawn to engineering.
EWB-USA began in 2002, the brainchild of Bernard Amadei, professor of Civil Engineering at the University of Colorado, Boulder. Amadei connected the engineering skills of his students with a community in Belize where the students worked with a local community to install a clean water system powered by a local waterfall. That sustainable and low-cost solution was the first EWB-USA project of the International Community Program. In many regards, it is best known simply because of its scale. This program currently operates almost 700 projects in 42 countries. A second program, the Community Engineering Corps, teams up with the American Water Works Association and the American Society of Civil Engineers to design domestic-U.S. infrastructure projects.
The Engineering Service Corps is the third program, and Kevin Hagen serves as its director. A Civil Engineer by training, he spent more than 40 years both at GRAEF and at Ayres Associates. Based in Madison, Wis., Hagen became Service Corps director in late 2013 and leads the organization in managing its relationships with groups that range from Catholic Relief Services and All Hands Volunteers to United Nations refugee programs. He spoke with Engineering360 Editorial Director David Wagman about the Service Corps, its volunteers and its work.
Engineering360: What are the origins of the Service Corps?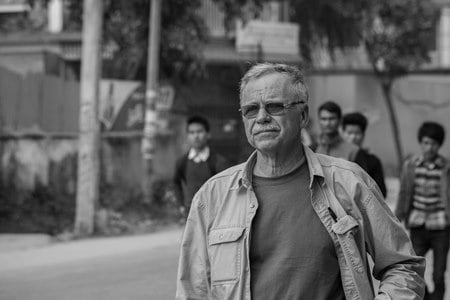 Kevin Hagen is the Engineering Service Corps' director. Kevin Hagen: The central idea is that we take experienced EWB-USA members and we make them available to other organizations. For example, there may be a nonprofit that is good at running schools, and maybe they are even good at building simple schools. But when they are faced with a more difficult engineering-related challenge—say, they can't get water into the school—we can provide engineering help.
Engineering360: The need seems almost limitless. How do you define the scope?
Hagen: When we started we thought that we would work mostly for small nonprofits and municipalities in the developing world. And we have done that, but oddly enough we immediately jumped to working with the United Nations. Our second project was an irrigation project in the West Bank done for the United Nations Relief and Works Agency.
Engineering360: Where does the funding come from?
Hagen: Most of the funding comes from the client agency. The bulk of what we do is pro bono engineering, so the member is not being paid. These are mostly senior engineers who are doing the work. Their great talent and value is the ability to do engineering and make things work in challenging environments.
Engineering360: Is the fast-deploy approach the mainstay of the Corps or are there longer-term strategic projects that you are working on as well?
Hagen: The ability to respond to disasters is an important part of the Service Corps, but it certainly is not the main component. In the Ecuador earthquake, I happened to be one of the people who responded and we were there two weeks after the earthquake.
But the main thrust is longer-term development-type work. We're seeing opportunities to put people in place for one to three months, or, in some cases, as long as six months.
Who are those volunteers? First, they are recent retirees. We are also seeing interest from people where it's more of a sabbatical. With that group it is happening for either one of two reasons.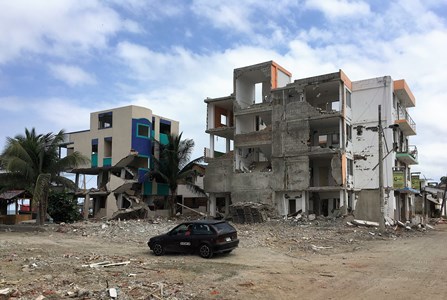 Engineer-volunteers assessed earthquake-damaged buildings, including this hotel. Image source: Engineers Without Borders USA/Kevin Hagen.One reason is that some companies may be willing to let people take sabbaticals. And the other reason is that people move a lot more between companies or organizations. And every time somebody does that, there is a chance that they will want to take a break to go do something like work on a water system in Ghana.
Engineering360: What engineering standards do you build to? And how do you deal with supply and material availability?
Hagen: One of the first steps of the work is to find out if there are local standards or regulations. Second, how are they used? Beyond that, our approach on a bridge project, for example, is that we're going to use the same standard loads and safety factors that we would in the U.S.
When their kids walk across that bridge they're no less important and they're due no less responsibility than if they were my granddaughter walking across.
The supply chain is also a challenging question. Tools can be a tremendous challenge. With the bulk of construction, the local construction community knows how to build things. Now they may not know how to size the rebar correctly in a concrete structure, but I guarantee you they can place the rebar and tie it faster than I can!
Engineering360: How do you train volunteers so they respect and nurture those community skills?
Hagen: It's one of the key skills that our people bring to the table. You have to have worked in some of these situations enough so that you understand that you don't walk in and expect everything to go the way they would go in the U.S. And the best way to understand that is to work on some EWB-USA projects where you've learned those lessons.
Engineering360: How did the Engineering Service Corps become involved in the Sierra Leone Ebola hospital project?
Hagen: We were approached by King's College London, which had been helping with the operation of Connaught Hospital—which is the biggest one in Sierra Leone—before the Ebola epidemic hit. They were there generally to help improve the quality of the medical care.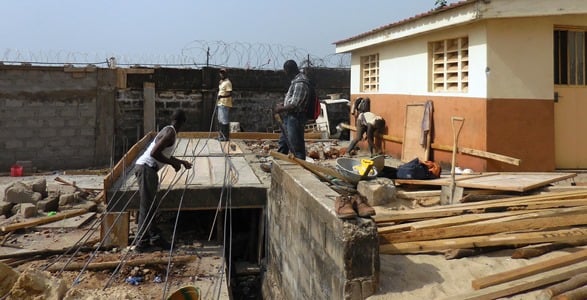 A building for an oxygen compressor was crucial in enabling Ebola vaccine tests to proceed. Image source: Engineers Without Borders USA.They approached us and asked whether we could provide them with some assistance. Their first mission for us was the most inspiring. It involved taking an oxygen system and making it work in order to be part of the Ebola vaccine trials. Our volunteer, Gerard Dalziel, figured out how to make that operate. It wasn't rocket science; it was just getting that piece of equipment under a roof and into a building that could be ventilated. He got it done and as a result the hospital had a more regular supply of oxygen. That project cut the mortality rate in the emergency room by 30%.That's a pretty neat thing that he did.
Engineering360: How did you decide to take on the earthquake response project in Ecuador?
Hagen: All Hand Volunteers requested that we come down there. Their disaster assessment response team (DART) was sent a week after the earthquake. They don't have engineers on staff and so asked if we could provide engineering help. A week later two of us got there. Especially in an earthquake situation, there's a need for quick structural assessment as they figure out if buildings are safe to enter and fix or if they need to come down. They asked us to come in and help do that. We worked with them, with a local municipality and with the Ecuador Corps of Engineers.
Engineering360: Why at this point in your career are you involved in this?
Hagen: It is an opportunity to do something with your engineering skills that really matters to people who really need that assistance. The main thing is it's an opportunity to use the engineering skills that you have developed over a long time.
Engineering360: What sort of responses do you get from the community?
Hagen: I was helping on a water tank as part of a water filtration system for a community of about 20,000 people and I was using a miter box saw. One of the local guys was helping me and I asked him, would he like to run the saw? At first he said no. I asked him the next day and this time he said, yes. I don't think I ever touched the saw again!
I showed him how to use it and that was really an important thing for him: It was a new skill. Capacity building is what we call it. We do our best to incorporate that into any of the work that we do.
Learn more about Engineers Without Borders USA and the Engineering Service Corps., including how you can volunteer and contribute to its ongoing efforts.